"I can highly recommend Khru Nok. "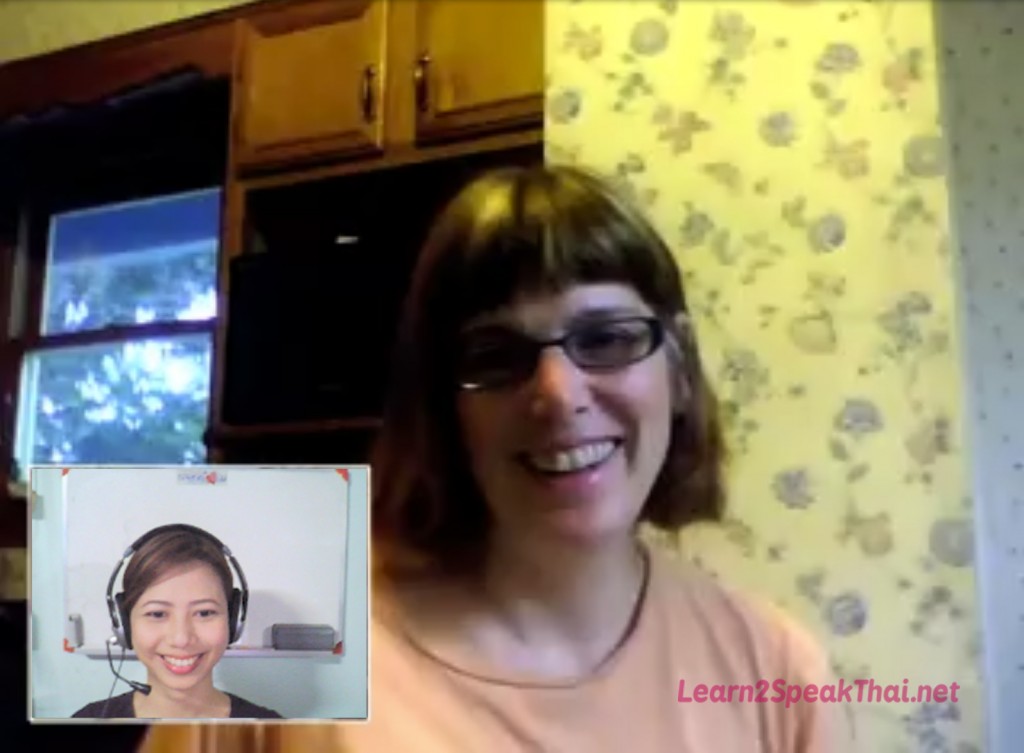 I began my lessons already being able to speak at an intermediate level (having lived in Thailand for 2 years, 27 years ago), and I had just learned the Thai alphabet. My goal was to be able to chat with Thai friends on the Internet and also to understand the words to Thai songs  by Carabao, Palmy, Parn, Be Peeraphat and many other artists. I also like to host foreign exchange students, and have had two Thai foreign exchange students. The Thai students also inspired me to try to improve my language skills. Khun Mia assessed my language skills, and told me that with just eleven one-hour lessons, I would be able to read. That sounded ambitious, but she assigned me to Khru Nok, and eleven lessons later . . . I could READ!!!
Now, the more I read, the more I CAN read. It feels miraculous. A week ago, I was stuck in a waiting room for an hour and a half with nothing to do but play on Facebook using my iPhone. All my Thai Facebook friends were on there that morning (it was the evening in Thailand), and suddenly to my surprise, I could read and understand the stream of Thai-language posts without any translation program! My grammar and vocabulary are improving rapidly because of the reading!
Khru Nok, has a very efficient system where each lesson builds on the next. Each lesson is challenging but totally doable with maybe 2 or 3 hours of practice. She is very patient and professional. She made sure the lessons matched my interests, For instance, I am an American, and one week President Barack Obama made a visit to Thailand. So that week she assigned me to read a news story about Obama's visit.
She is also very kind. One week, we were reading about the Thai holiday Loi Krathong and how it is an especially big deal in Chaing Mai.
I said, "You live in Chaing Mai, right? So when is Loi Kratong? It should be tomorrow, right?" 
She said "It's right now, but it's raining so the celebration is postponed." I felt so bad that she was teaching during Loi Krathong! 
On the other hand, she was very flexible when I had vacations and even one time when I didn't realize our lesson time had changed because of daylight savings time. I got a make-up lesson. We had fun chats while practicing my speaking skills, and we  laughed a lot.  If you want to learn Thai, this is the way to do it. You get one-on-one tutoring, exactly designed for your needs from an expert at a totally reasonable price. Do it!
Ann Norman, female, 50 years old
Assistant Editor at an economics journal
Pittsburgh, Pennsylvania, United States
---
"If you want to learn Thai, I recommend you definitively Nok."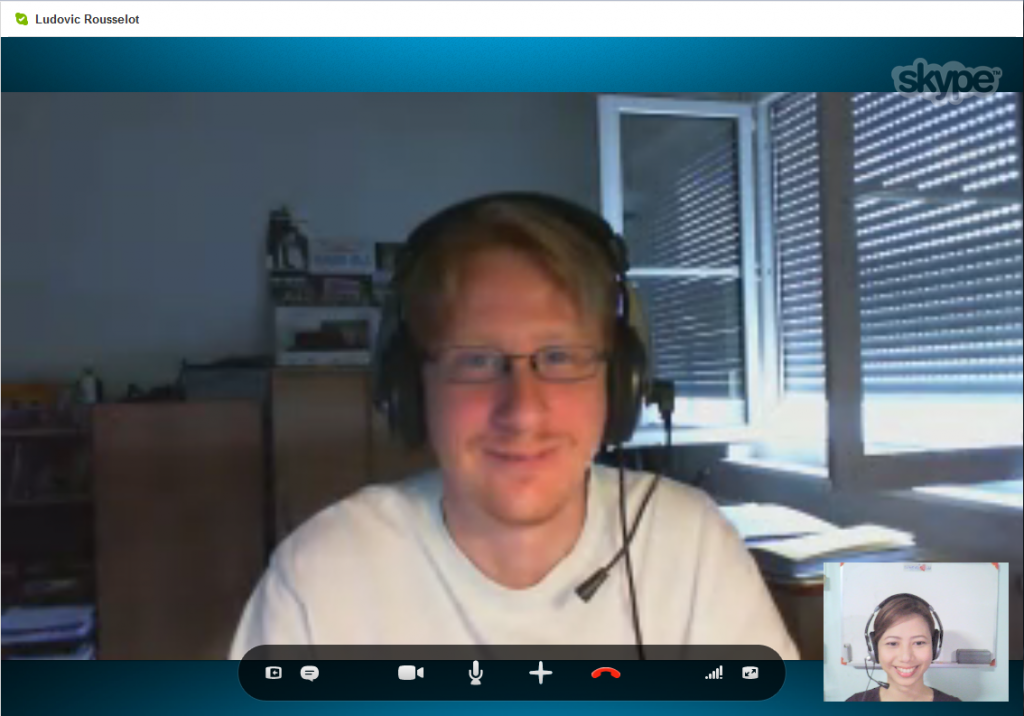 Learning a new language is always difficult, asking you to put a lot of effort into it but also a lot of time. Your motivation and determination have to be strong enough, otherwise you will give up after a few lessons or even the first one. This is especially the case when you are an European and you want to learn an Asian language as European languages do not use so much (or even not at all) the different tones (at least for French native speakers like me).
Learning Thai, in a first approach, could seem very impressive and even fear you and confronted with this, one might have hesitation to finally decide to get over these difficulties to finally start learning this new language, even if it is a fabulous language. However, if you find the good teacher, you will doubtless go over these difficulties and you will enjoy learning Thai. That's exactly what will happen to you with Nok as teacher!!! I looked to learn Thai in my own city but as it is a small city, I didn't find anyone to teach me. I bought a book of Thai (méthode assimil) and after opening the first pages, I started to be scared, wondering why I was finally doing this
... Without learn2speakthai, Mia and especially my teacher, Nok, I would have probably given up a long time ago.
I have been learning Thai now for around 4 months with Nok and I have learned a lot with her. I would have never done so much progress in a so short delay if I would have been learning on my own or in Thai class.
Nok is very patient, very nice, always on a good mood and always very smiling. Whatever you want to learn and how you want to learn it, she will always try to get used to your needs or requirements in term of content of the course but also in term of schedule. She will give you confidence, she will take into account your difficulties and take the time needed to manage, and the most important, she will give you motivation to continue and go over the difficulties you might meet during your learning journey.
You will learn a new language but at the same, you will enjoy it and have a very good time with her and I think that the most important thing that a teacher could offer you when teaching.
Chaa chaa dai phraa song lem ngaam.
Go ahead and enjoy! That's all I can wish you and I know that you will!
Ludovic Rousselot (FR)
Schweinfurt, Germany
---
  " During my life time and all the teachers I have had through the years she is by far the best."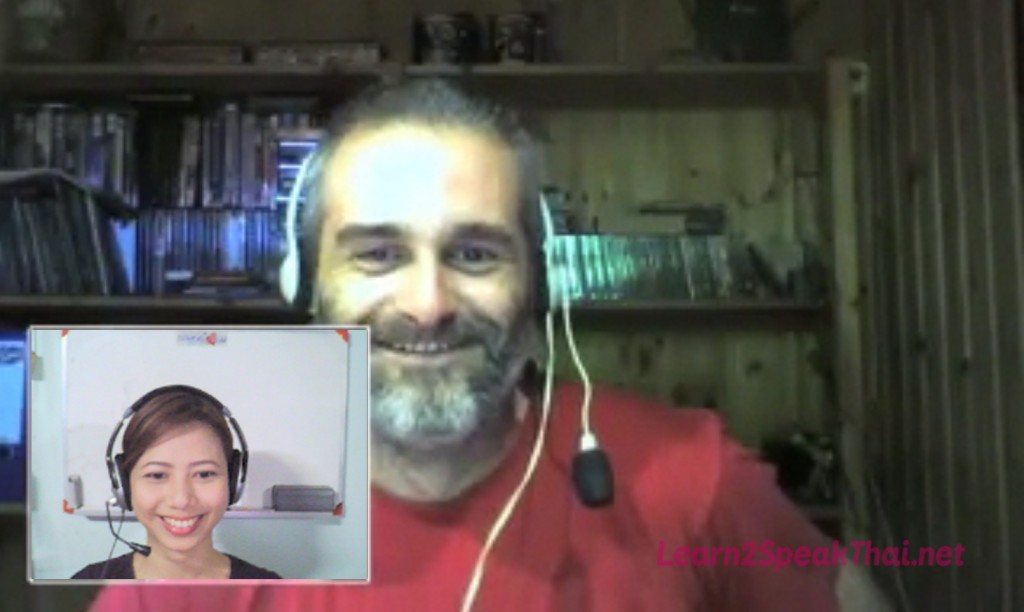 Most important is that she's calm and patient all the time. If there is something you don't understand or need more tries to get things right, she waits until you have it. She is good at explaining things in a way you understand and in a tempo where you don't have to ask her to repeat things 100 times before you understand. There's never any time limit during the classes either. Everything goes in your own tempo and she adjust the learning speed after what you understand and not. She is easy going. Have a joke and a laugh during the classes if you want. There is always a smile on her face and the atmosphere during classes is always easy and relaxed. If there is a topic you want to work on, ask her and she makes something to learn you this topic.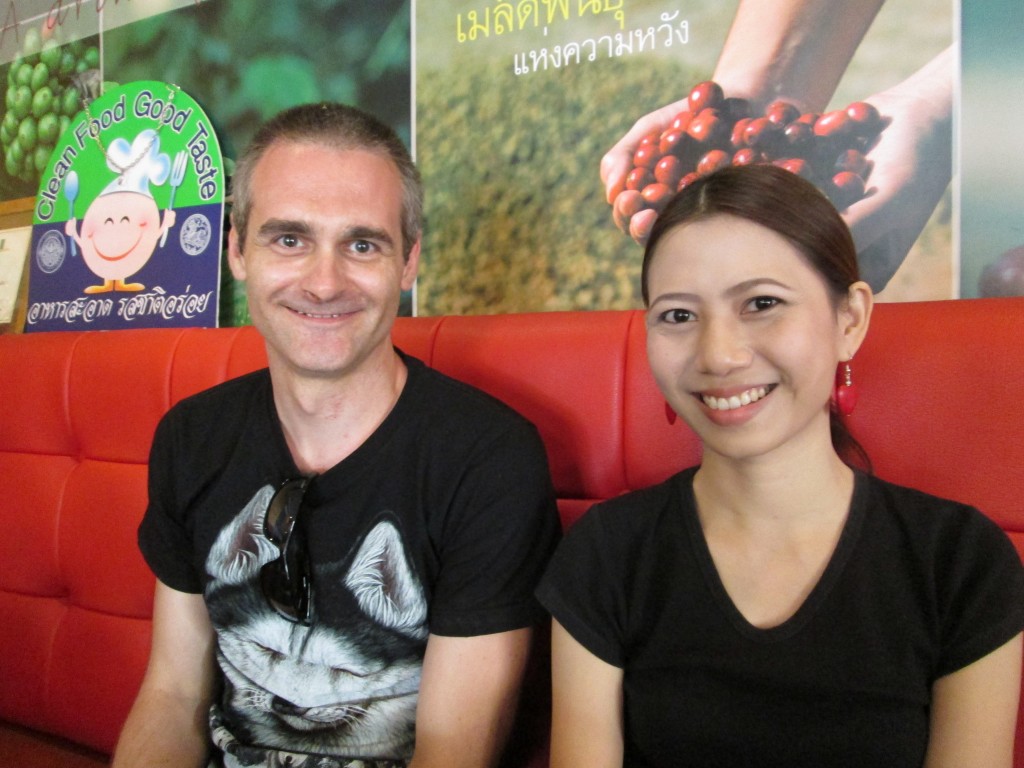 "Teacher Nok is good at everything."
Keep up the good work !!
Sebastian Gjerde, Norway
---
"I definitely will recommend her to anyone who want to learn Thai"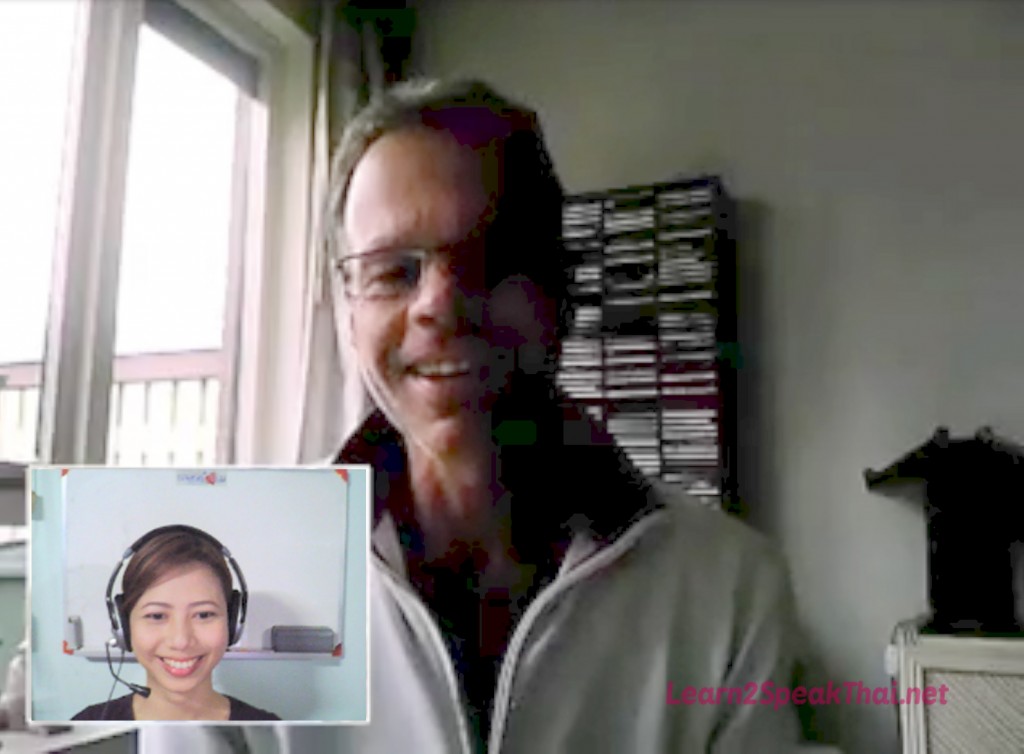 I have been learning Thai with ครูนก (khruu Nok) for almost 4 months now..and I really enjoyed every minute of it...it's so much fun to have Nok as my teacher...last week i just finished my 34th lesson...!!
ครูนก is a person with a lot of patience...excellent teaching skills...besides she is very kind...polite...well-educated...she is always willing to explain again...she is enthusiast...she is modest in a positive manor...!!
In her lessons she is very flexible...she is always aware of your needs...she always consider what to study for the next lesson...and at the same time she always have an eye for the correct build-up of your lesson package.
During the lessons she like to explain a lot about the Thai culture...I can tell a lot more about khruu Nok...but this is in a nutshell who she is...
It's a privilege to have khruu Nok as your teacher...
ครูนก ขอบคุณมากๆครับ
ครูนก...khun pen khon thii mii huacai thii dii...
Khun Jan, Netherlands 
Technical official.
---
 "Without any doubt I'm requesting her to continue our Skype sessions."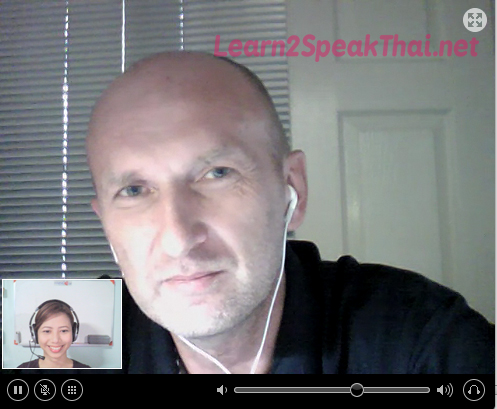 I have been learning 'simple Thai conversation' with Kruu Nok for the last eight months. She teaches and practice with me general topics as well as subjects of my particular interest.
For example, K. Nok prepared me conversation and loose sentences required while servicing a car. Pretty specific subject I have never seen in any Thai study books. Most importantly, with my pretty unscheduled work system I do appreciate very much K. Nok's flexibility and patience to accommodate classes with me within her schedule.
Eric, based in Chiang Mai - Thailand, spending most of my working time in Mid East.
---
 " lessons around the student's own interests."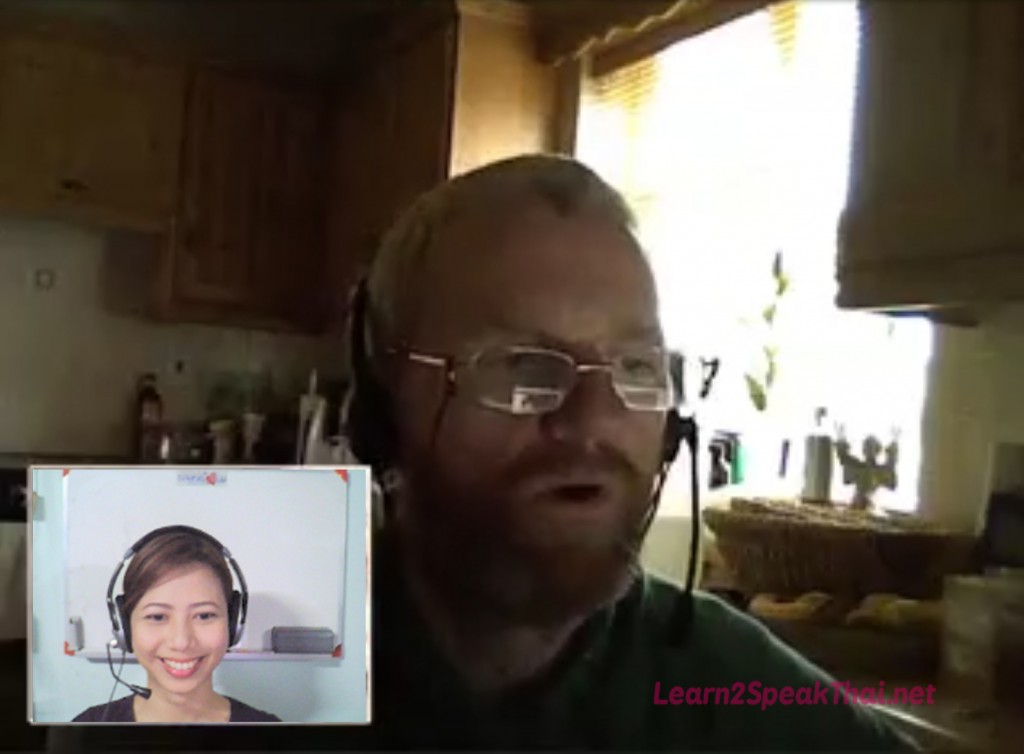 I have always found her to be very professional not just in the delivery of the lesson itself but also in her meticulous planning of her lessons beforehand. She is a very profound and knowledgeable teacher not just in the professionalism of the delivery of her Thai lessons themselves but in her overall meticulous planning and research beforehand, especially with lessons around the student's own interests. 
She is also a very nice person, an extremely friendly, helpful, honest and efficient individual, and also a diligent worker to the bargain. As well as these priceless characteristics I had the privilege of meeting her on my visit to Chiang Mai in March of this year, when she showed me around some of the city's interesting sites."
Great to have crossed paths with you.
Patrick, Ireland
---
"I can hardly wait to meet her on Tuesday every week.'
I have been learning Thai with Khruu Nok for almost 10 months since October last year. I meet her once a week on Skype and have lessons. I think I'm at the lower intermediate level. Khruu Nok teaches me basically in Thai only, which is a very good approach, I believe. I still have a lot of difficulty in reading and writing Thai scripts. However, she is patient enough not to get angry with my slow reading and understanding of the Thai language texts given for homework. When I make a mistake in pronunciation or understanding of a Thai word or sentence, she always helps me pronounce and understand it correctly by showing good examples. We talk about many things, about our daily life, events, cultures, etc. Her talk is really fun. She always looks nice. I enjoy learning Thai with Khruu Nok. I can hardly wait to meet her on Tuesday every week.
Taro Mochizuki, Professor, Japan