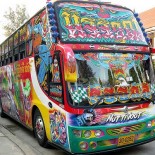 download script here 
Things you knew how to do, things you took for granted back in your passport country can sometimes be a very stressful experience when in a foreign country.
In our first video series, Thai Girl Talk, heads to Arcade Bus Station in Chiang Mai Thailand. Here we see Lani in a bit of a predicament as she tries to buy a bus ticket to historic Sukhothai.
Thankfully she runs into Mia, who comes walking to the rescue!
---
In general bus travel in Thailand is the cheapest long distance option.
But here are the different classes:
VIP BUS
 24-32 seats
  Bigger seats, more legroom
  Large movie screen
  A/C
  Toilet
  Snack or meal served
  Water or milk or juice
  Coffee/tea
---
FIRST CLASS BUS
40-50 seats
roomy but smaller seats
TV screen
A/C
no toilet
snack
water or milk or juice
---
SECOND CLASS BUS
50-55 seats
questionable seats
TV or music
A/C
no toilet
---
I've written about my overnight visa run to Vientiane, complete with bus experience at Tell-Thai Heart here.
The nice thing about the trips I've done to Laos is I've made new friends. Don't be shy about joining forces, especially when hailing a Songtaew or tuk tuk between places and destinations. It can save you some money.
And if you are lucky, you won't only make new friends but your bus won't break down either.
Just remember bus drivers play music for entertainment and to stay away during long drives so bring ear plugs or music if you want to drown out the noise. A jacket is also advisable as some A/C buses can get chilly. Bring your own water and snacks too! If you don't like custard filled buns or soy milk, you might go hungry!
Share your travel/bus tips and read about my Sukhothai holiday here. Don't worry I've included pictures too! Safe travels.
---