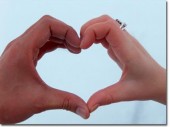 Episode 16: In this week's podcast Mia shares several  ใจ/jai/heart words, or heart expressions and idioms in Thai. Listen to the mistake Mia makes because it's hilarious!

 Download MP3 to listen offline here
Listen to Episode16 in Thai and download transcript.
by Lani
Is memory stored in the heart?
I don't know but there are a lot of interesting studies out there trying to figure out where exactly is memory located or stored, and there is evidence of organ transplants inheriting memory too.
When I started learning pǎsa Thai/ภาษาไทย/Thai language, I thought,"The Thai language sure has a lot of ใจ/jai or heart words and phrases!" How fun! But when I sat down to write this, I realized the English language has plenty of heart idioms of its own. For example young at heart, change of heart, from the bottom of my heart, with a heavy heart, set my heart on…
So there is something about the human condition that pulls us to expressing ourselves through this beating organ. I don't know if this is true but I'm willing to wager that out of all of the English idioms having to do with the body, the heart is the most used.
In pasa Thai/ภาษาไทย/Thai language we refer to the actual heart as  hǔa jai/หัวใจ. But หัวใจ/ hǔa jai can also be used for emphasis, for example, sài hǔa jai/ใส่หัวใจ, "pay attention" or "put your heart into it".
A devoted person becomes bpen kon sài  jai/เป็นคนใส่ใจ But be careful when you are ordering the actual organ for, let's say your noodle soup, you need to add hǔa/หัว to your jai/ใจ .
Something else you can also add to spice up your jai/ใจ is to put mâi/ไม่  in front of Thai idioms. This can work in most cases, and honestly I use it when I don't know the opposite of a word I want to say. Sometimes It's even more appropriate to say, for example, instead of saying "dirty" you say "not clean". The most common use of this, I'm guessing, is mai kao jai/ไม่เข้าใจ, to not understand.
But it was interesting to learn that jai mai dee/ใจไม่ดี, was not the opposite of jai dee/ใจดี but to mean you are worried, unsettled, as in you are jai mai dee/ใจไม่ดี because your son is out driving at night on a motorbike.
Another word I was unaware of was น้ำใจ nám jai which literally translates to water heart. I find it fascinating that this means kind and generous. This is one of those translations I would have never guessed.
hĕn jai/เห็นใจ means to be compassionate, to see the person's heart, to see the same thing, to understand.
I figure it has the same meaning as hĕn dûay/เห็นด้วย, châi mái/ใช่มั้ย? (agree,right?) But with a little more heart, of course. greng jai/เกรงใจ is different, so don't be confused.
If you are dining with a Thai and you are not sure who should pick up the check. This awkward  situation would has a lot to do with greng jai/เกรงใจ. For a great article on explaining greng jai/เกรงใจ go to Womenlearnthai site.
And just like in English we have negative and positive adjectives/words depending on the context. This is perfectly expressed with jai òn/ใจอ่อน, soft hearted or jai kǎang/ใจแข็ง, hard hearted. Sometimes it is good to have a soft heart or hard heart depending on the situation.
Actually, parenting came up as an example. You can be a push over or 'stand your ground' with your children. Sometimes it's acceptable to 'give in' or jai òn/ใจอ่อน have and other times, jai kǎang/ใจแข็ง might be too much!
But perhaps the heart expression that I'm currently the most in love with is róo jai/รู้ใจ or kon róo jai/คนรู้ใจ which means to have someone close to your heart. Celebrities use this in place of fan/แฟน, or boyfriend/girlfriend. (Learn more useful vocabularies for love and romance on ThaiGirlTalk episode 15) I just like the idea of someone knowing your heart, understanding you because to me that is heartfelt.
Have fun with the phrases but never play with another's heart, that would be mai jing jai/ไม่จริงใจ/not sincere.
---
 เพลงภาษาใจ-Heart language
---
Thai proverb : ใจดีสู้เสือ
jai dee sûu sĕua
jai dee = to be clam ,be generous
sûu = fight
sĕua = the tiger
Learn more about this proverb

here
---
Vocabulary of Episode 16
ใจดี   jai dee [to be] kind-hearted ; kind ; generous
ใจดำ   jai dam [to be] cruel ; unsympathetic ; merciless
เข้าใจ kâo jai [to] understand
น้ำใจ  nám jai kindness ; spirit ; heart
ใส่ใจ  sài jai [to] pay attention to ; attend
เห็นใจ hĕn jai [to] sympathize (with someone) ; feel for someone
หวานใจ wăan jai sweetheart ; sweet
รู้ใจ róo jai [to] know (someone's) mind
ใจร้อน jai rón = hot tempered, impatient
ใจเย็น jai yen = character
ใจเย็นๆ jai yen yen = calm down
ใจอ่อน jai òn = soft heart, easily gives in
ใจแข็ง jai kǎang = hard heart, 'stand your ground'
เสียใจ sǐa jûai = unhappy, sorry, broken heart
เสียใจด้วย sǐa jai dûay = sympathy
จริงใจ jing jai = sincere
ไม่จริงใจ mâi jing jai = not sincere
พอใจ por jai = satisfied
ไม่พอใจ mâi por jai = not satisfied
ใจเขาใจเรา jai kâo jai rao = his or her heart is your heart (similar to เห็นใจ hĕn jai )
---
anymore "ใจ/ jai" words you've heard before, let us know