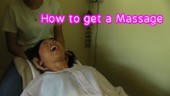 Are you one of many tourists who are returning from Thailand with lasting impressions of a Thai massage? Or you are living in Thailand and get a massage regularly like I do? Well, on this episode I will show you "how to get a massage like a Thai "
Download a Thai script of this episode 
---
-What happens during  Thai massage?  
เกิดอะไรขึ้นขณะนวดไทย
You lie on a mat on the floor, fully clothed except for shoes and socks. The practitioner uses thumbs, palms, forearms, elbows, feet , knees and even shins to press and stretch your body.
คุณจะนอนลงบนเบาะบนพื้น สวมเสื้อผ้าแต่ไม่สวมรองเท้าและถุงเท้า ผู้นวดจะใช้นิ้วหัวแม่มือ ฝ่ามือ แขนส่วนบน ข้อศอก เท้า เข่า และแม้กระทั่งคางกดและยืดร่างการของคุณ
นอนหงาย/non-ngăai/  lie on the back
Even advanced yoga cannot compete with the stretching capabilities of Thai massage when applied by an expert.
แม้แต่โยคะขั้นสูงก็ไม่สามารถเทียบได้กับความสามารถในการยืดตัวของการนวดไทยโดยผู้ชำนาญ
If you experience some pain you could say  "เบาๆ/bao bao/softly" or  "เจ็บ/  jèp/ hurt"
ถ้าคุณรู้สึกเจ็บคุณสามารถบอกว่า เบาๆ หรือเจ็บ ได้
-How is Thai Massage Performed?
วิธีการนวดไทยเป็นอย่างไร
The typical Thai massage will last for roughly two hours. At least for me, if I get a massage  less than 2 hours is like having a meal but with half full stomach.
การนวดไทยทั่วๆไปจะใช้เวลาประมาณสองชั่วโมง อย่างน้อยสำหรับฉันถ้านวดน้อยกว่าสองชั่วโมงจะรู้สึกเหมือนกับว่าทานอาหารได้แค่ครึ่งท้อง
You'll need to  change into loose, comfortable clothing.
คุณจะต้องเปลี่ยนเป็นชุดที่หลวมสบาย
เปลี่ยนชุด/ bplìan chút/ change(cloth)
You will be placed into a selection of yoga-inspired position and deep pressures will be applied to the body as the major part of the massage process.
คุณจะถูกจัดเพื่อให้อยู่ในท่าที่คล้ายๆกับโยคะและจะมีการใช้น้ำหนักกดบนร่างกาย ซึ่งเป็นหลักสำคัญของการนวด
-What are the benefits of Thai Massage?
ประโยชน์ของการนวดไทย
Thai Massage is known to have many health benefits including the readjustment of skeletal structure, increased mobility and flexibility, relieve of muscle and joint pain and balance the natural energy system of the body. Take me as an example, my nature of work is sitting all the day (seems easy) but my doctor told me I do need to stretch regularly and Thai massage helps me do just that!! I like to call it "passive yoga"
การนวดไทยเป็นที่รู้จักกันว่ามีผลดีต่อสุขภาพ ช่วยจัดโครงสร้างของร่างกาย เพิ่มการเคลื่อนไหวและความยืดหยุ่น ลดความเจ็บปวดของกล้ามเนื้อและข้อต่อ และปรับสมดุลพลังงานตามธรรมชาติของร่างกาย ดูอย่างฉันเป็นตัวอย่างนะคะ ปกติธรรมชาติการทำงานของฉันคือนั่งทำงานทั้งวัน (อาจดูเหมือนง่าย) แค่หมอบอกว่าฉันจะต้องยืดตัวเป็นประจำและการนวดไทยก็ช่วยได้ดีทีเดียว ฉันเรียกมันว่า โยคะแบบไม่ใช้แรงค่ะ
What is your best and worst massage experience?
  อะไรคือประสบการณ์นวดที่ดีที่สุดและแย่ที่สุดของคุณค่ะ?
---