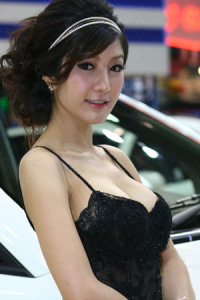 Join Mia and Lani as they discuss the hot topic of plastic surgery, and the latest death of a Thailand "pretty" because of an illegal procedure. Buddhism's "middle way" does not seem to apply to some Thai women's obsession with looking "pretty".
No time to listen? download  MP3  file and listen to it offline here

Prompted by the news of Athitiya "Kratae" Eiamyai's death after a plastic surgery operation gone wrong, I wanted to talk to Mia about Thailand's crazy obsession to be white and pretty.
Thailand is a country where appearances count, (see episode 3) where "saving and losing face" can take on a new meaning in the case of plastic surgery craziness.  Some women here want to remain as youthful as baby, and are willing to go to great lengths to look "perfect".
This idea is not lost on US citizens, as we've seen the botched plastic surgery pictures, the gossip magazines showcasing the latest celebrity makeover and of course, Michael Jackson's bizarre transformation throughout his career. But perhaps the most interesting one for me has been Jennifer Grey's nose job, where she went from unique and recognizable to ordinary and forgettable.
Thailand's "pretties" however, are paid or reimbursed handsomely for their youthful appearances as well as their ability to persuade and present the products they are selling. The case of Kratae just globally highlighted what most Thais are already aware of: it pays to look pretty.
What is disturbing to me is how desirable Anglo features are to Thai women. And I understand, I used to feel that way too growing up in America. You could say, Thais want white skin like the Koreans or Japanese, and while that is true, they also desire a more pronounced nose bridge, more curves in the form of bigger breasts and hips and an oval face.
Once you take away the roundness of an Asian face, the flatter nose and the slim or petite frame, you are creating a different race. Maybe this is what men want. I don't know. I just find it sad that girls want to change features that are "ethnically theirs", features, that quite frankly, I have.
- Blog post written by Lani. For more on her life in Thailand visit Life, the Universe and Lani.