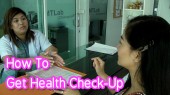 Thailand is one of the most famous destinations for medical tourism. Learn how to get your health check-up in Thai. Plus, learn the other use of มา/maa in the past tense.
---
มาตรวจสุขภาพ
มา/maa/to come
ตรวจ/dtrùat/[to] check ; censor ; inspect
สุขภาพ/sùk-kà-pâap/health ; wellbeing ; good condition
(I'm here ) for health check-up
---
งดน้ำงดอาหารมารึยัง
งด/ngót/[to] stop ; halt ; discontinue
น้ำ/náam/water
อาหาร/a-hăan/food
มา/maa/come**
รึ/réu/or
ยัง/yang/not yet
Have you been fasting?
---
บัตรประชาชน
bàt prà-cha-chon
บัตร/bàt /card
ประชาชน/prà-cha-chon/people
Thai ID card
---
**How to use มา/maa to show the time coming from the past
Pattern : Verb/verb phase +มา/maa

Example
1. ไปตลาดมา/ pbai dta-lad maa/ went to the market
2. ทำอะไรมา/taam à-rai maa/ what did (you) do ?
Form this episode, she ask me :
งดน้ำงดอาหารมารึยัง
ngót náam ngót  a-hăan maa réu yang
Have (you) been fast or not?
Have you been fasting?
---
Have you ever got a health check up in Thailand? please share