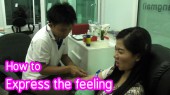 Feelings is universal but are there any differences between the feelings in Thai compare to English? In this episode I will show you how to express how  you feel in Thai.
Download MP3 to listen offline 
---
Pattern
Subject + รู้สึก/ róo-sèuk + feeling
Example
chăn róo sèuk gang-won
I'm feeling nervous.
chăn róo sèuk jèp

I'm feeling hurt/pain
chăn róo sèuk yen
I'm feeling cool.
pŏm róo sèuk năao
I'm feeling cold.
Sometime, we can omit  the word รู้สึก/ róo sèuk
pŏm  jèp
I'm hurt.
pŏm năao
I'm cold.
pŏm hĭw
I'm hungry.
---
 Learn how to express the different feeling in Thai
Thai people are often hide their feeling in order to save face, if you wish to ask their feeling , here is what you could say

คุณรู้สึกอย่างไร ?
kun róo sèuk yàng rai ?
How do you feel?
---