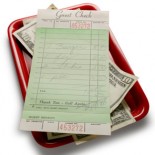 In episode 14 : We talk about who pays the bill in Thai culture! Join us for this round table discussion on ordering food and getting the attention you want at a restaurant.
Listen to Mia talk about this episode IN THAI below the cartoon image.
Download MP3 to listen offline here
by  Lani
Who pays the bill? The guy does, of course. Actually, in Thai culture, it's the oldest person at the table.  Lame-o.  (That's like a bowl of spaghettiOs but more lame.)
So if it's the oldest egg at the table, it's probably going to be me! My how the tables have turned! I actually like it when the waitress hands the bill to the man! "Going dutch" (splitting the bill 50/50) is for women who aren't comfortable receiving gifts, compliments and lavish attention! Not me. No, no, no.
Thailand, we need to have a talk!
The reasoning behind this is the older person is more established and has had the time to accumulate wealth and status. And for Thais who are old enough to care for our parents, they are expected to pick up the family tab as well. Egats.
The older person could feel uncomfortable or เสียหน้า/ sĭa nâa if the younger one is trying to pay.
It also happens to men when dating Thai girls, often the man is expected to pay and the girl won't even batter an eyelid when the bill comes.
This is not always the case but does happen.
But this is not as fatal as I make it out to be. It's just Thai culture. And this is always good to know when you are in such a social setting or situation. Fighting over the bill is perfectly acceptable but after a few rounds (of Muay Thai boxing), it's best to let it go.
Even though Mia has put all the vocabulary and language from the podcast following this post, we should review by saying, whenever you want to get the wait staff's attention you should say น้อง/ nóng or พี่ /pêe ka or kráp.  Nóng is for the waiter/waitress that is younger than you and pêe for the staff that is older than you.
Using สั่งอาหาร sàng aa hăan when you want to also get the attention of the wait staff, as a way of saying, "I'm ready to order now."
ขอ/ kŏr is the polite way of ordering and เอา/ ao is more casual and what you are most likely to hear and use in street side restaurants and food stands. To be honest, I use เอา ao and not ขอ/ kŏr but I will try to use ขอ/ kŏr more often.
It's not that I don't want to be polite, it's just I heard from my brother that my mom thinks I speak " Shakespearean Thai" so I've made an effort to sound less formal. Will I ever get it right!???
กินให้อร่อย / Gin hâi a-ròi!/ Enjoy eating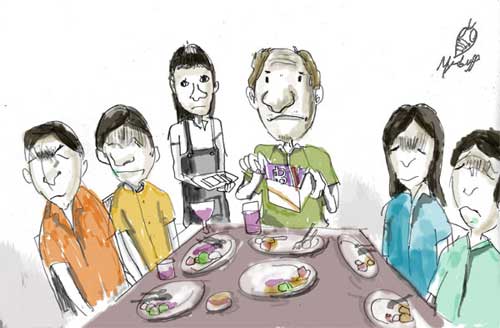 Listen to episode14 in Thai version here and download transcripts here
---
Thai lesson of Episode 14
1.น้อง/ nóng /you (used when talking to someone younger)
2. พี่/ pêe/you (used when talking to someone older)
 3. ขอโทษ/ kŏr tôht/ sorry ! ; excuse me !
---
4. สั่งอาหาร/  sàng aa hăan/ (I'd like to) order food
-สั่ง/ sàng/ [to] order ; command ; direct
-อาหาร/ aa hăan/ food
---
5.รับอะไรดี/ráp a-rai dee/what would you like?
-รับ/ ráp/ [to] receive ; get ; accept
-อะไร/ a-rai/ what
-ดี/ dee/ [to be] good ; nice
---
5.เอาอะไรดี/ao  a-rai dee/what do you want(to order)?
-เอา/ ao/ [to] want ; desire
---
6.ขอ/kŏr/+….(what you want) /may I have…..
-ขอ/ kŏr/ [to] ask for ; request for ; ask
example :ขอเบียร์/kŏr beer/ may I have a beer
---
7.เอา/ao/ +….(what you want)/(I'll)have…..
-เอา/ ao/ [to] want ; desire
example :เอาเบียร์/ao beer/ (I'll) have a beer
---
QUIZ: What is the boy in green saying?