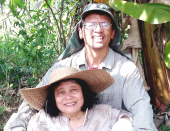 Hugh dishes out his top 3 recommendations for retirement in Thailand; as well as what made him start to learn reading Thai after 25 years…This is part 2 out of a 3 part series. Welcome back!
Listen to part 1 here
Download MP3 to listen offline here
Have trouble listen to it click here
By Lani
While Hugh talked specifically about his top retirement tips, we asked him how retirees meet other retirees, which is a question I often receive. His own experience has been rich and layered since he has lived in Thailand for many years, but for newcomers he recommends The Expat Club which is throughout Thailand.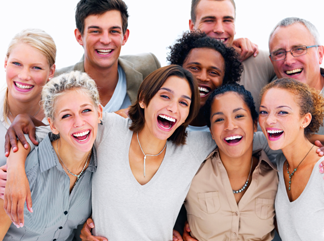 Getting involved with clubs and groups centered on your interests and activities can also be a good place to start. Hugh also mentioned The Chiang Mai Friends which is another group that meets once a month. They do volunteer work too. And remember you can always start your own club!
Surprisingly Chiang Mai has about 40,000 expats with 8,000 US Citizens registered with the US consulate. Hugh shared that the largest expat groups were the British, and the Japanese who are at about 20,000. The อีสาน/Isaan/Northeast area has a lot of expats too. So since there are many expats living here, Hugh thinks living in a หมู่บ้าน/moo baan or gated community is a great way to meet new friends.
And now here are Hugh's top three advices for relocating to Thailand (or anywhere!)…
#1: Do a trial run or a trial retirement before you move. Check out pharmacies, transportation, supermarkets, housing and, of course, costs. It is also important to remember cost of living depends on where you live. There is a big difference between Bangkok and the countryside or วังเหนือ wang nŭa.
#2: Find something to do. (see number 3)
"Motivation is the only variable in language learning that makes any difference." –Hugh Leong
#3 Learn Thai. It is challenging but important, and not impossible. You'll meet people and you'll be able to communicate your ideas and it will give you something to do! (see number 2!) It opens up so many doors and you'll be able to talk about religion, politics, the weather and it helps you understand Thai culture too.
For 25 years Hugh didn't learn reading and writing in Thai. But he decided to learn because his vocabulary and understanding was limited to daily encounters and his surroundings. He realized he could expand his vocabulary through learning to read. Because when you read, especially in Thai, you learn new vocabulary, formalized vocabulary and even the head scratching slang used in newspaper headlines, such as  มะกัน /má gun as an American.
Actually Hugh recommends never reading the headlines, read the captions under the pictures instead. But Hugh started off by learning the basics: the alphabet, then working his way through the มานี/Maanii books, then สองภาษา/ sŏng pa-să/2 languages books, and finally the newspaper. He learned a new word a day and has built up his vocabulary. So it's a process that he has been working at and now he can say just about anything he needs to say!
"If you are living in a country where you are surrounded by 65 million folks who speak a language different than you, isn't that motivation enough?" -Hugh Leong

This is actually Hugh's number one advice: LEARN THAI. Which he interestingly enough equates to learning golf because he feels golf is the most difficult thing he has ever done, and the reason why he loves learning Thai is because it is so difficult. He works really hard, because he doesn't consider himself a good language learner or a natural at it.
Lastly we ended the podcast with a Thai proverb. We asked Hugh what his favorite Thai saying is:
ผักชีโรยหน้า/ pàk chee roi nâa – the corrander that's sprinkled on top  or "putting your best face forward"
ผักชี/pak chee – corrander
โรย/roi – to sprinkle
หน้า/naa – the top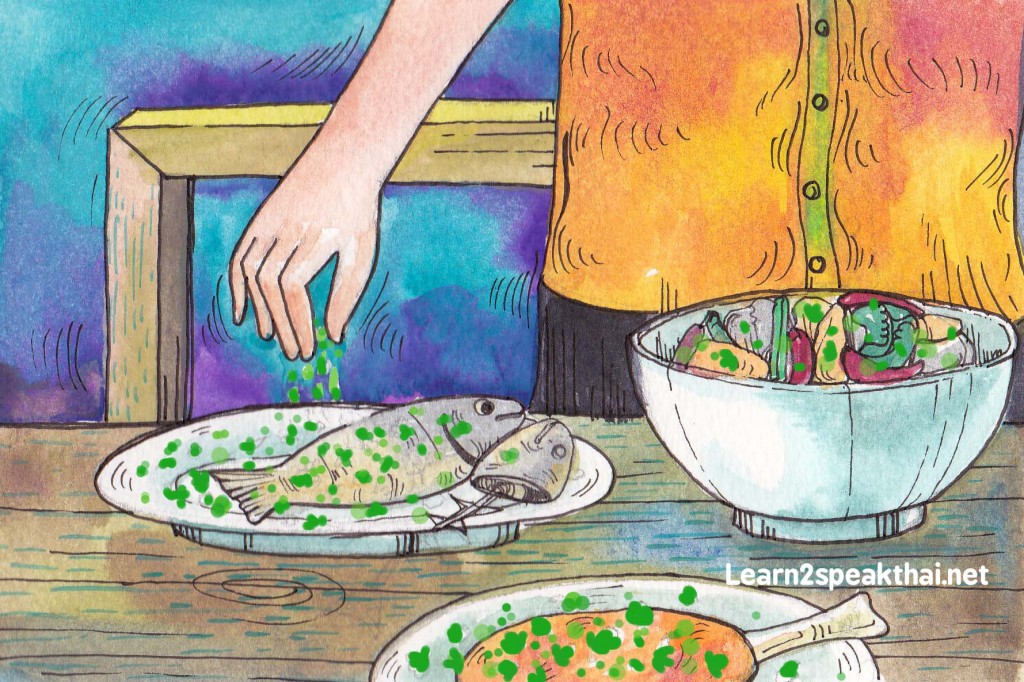 Thai culture allows you to see the good stuff "sprinkled on top" but underneath the surface there is something else going on. Not unlike the Western saying "sweeping everything under the rug". It has a negative connotation but a revealing one, one that gives you a little insight to Thai culture and Thais way of thinking.
Check out the list of Thai proverbs here
What's your favorite Thai phrase?
Coming up next week in part 3 of this series, Mia interviews Hugh in Thai, stay tuned !!!!
---
Hugh has written for the Bangkok Post, The Far Eastern Economic Review, Asia Magazine, Sawasdee, and even The Mother Earth News (about living an alternative lifestyle teaching in Thailand). He has an MA in TESOL and has taught at The Royal Thai Naval Academy, Chiang Mai University, and was the Director of AUA, Chiang Mai.
For Thais he has written 5 English textbooks, and even a guidebook for Thais planning to live in the U.S. (translated into Thai). Although most Chiang Mai residents might know Hugh from his retirement column for Chiang Mai City Life magazine which he wrote for 5 years.
Now you can find him at: retire2thailand.com and on his blog on retirement at: retire2thailand.wordpress.com. He has an eBook called "Retired Life in Thailand" (ebooksinthailand.com) and is a monthly contributor for womenlearnthai.com on Thai Language Thai Culture.