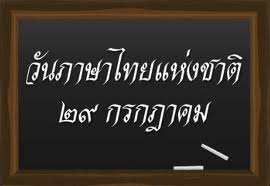 July 29th was picked as National Thai Language Day to celebrate His Majesty the King's visit to Chulalongkorn University to join experts on the Thai language in a conference on problems with using Thai words.
On 29 July 1962 at the Faculty of Arts, During the discussion, His Majesty urged everybody, to be aware of the proper use of the Thai language.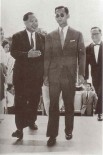 The king speech
"เรามีโชคดีที่มีภาษาของตนเองแต่โบราณกาล จึงสมควรอย่างยิ่งที่จะรักษาไว้ ปัญหาเฉพาะในด้านรักษาภาษานี้ก็มีหลายประการ อย่างหนึ่งต้องรักษาให้บริสุทธิ์ในทางออกเสียง คือ ให้ออกเสียงให้ถูกต้องชัดเจน อีกอย่างหนึ่งต้องรักษาให้บริสุทธิ์ในวิธีใช้ หมายความว่า วิธีใช้คำมาประกอบประโยค นับเป็นปัญหาที่สำคัญ ปัญหาที่สาม คือ ความร่ำรวยในคำของภาษาไทย ซึ่งพวกเรานึกว่าไม่ร่ำรวยพอ จึงต้องมีการบัญญัติศัพท์ใหม่มาใช้…สำหรับคำใหม่ที่ตั้งขึ้นมีความจำเป็นในทางวิชาการไม่น้อย แต่บางคำที่ง่ายๆก็ควรจะมี ควรจะใช้คำเก่าๆที่เรามีอยู่แล้ว ไม่ควรจะมาตั้งศัพท์ใหม่ให้ยุ่งยาก"
Translation
"We are fortunate that we have had our own unique language since ancient times. It should therefore be carefully preserved.  This can be accomplished in several ways.  The purity of pronunciation should be maintained with great accuracy.  Words should be used appropriately in sentences. The key issue is the richness of the Thai language.  We should not think that the Thai language is somehow inadequate and that we frequently need to create new words.  Although some new words may be necessary for technical or academic usage, most words should remain simple.  We should use the words that already exist and not add complications by creating new words."
To recognize His Majesty's concern for the proper use of the Thai language, National Thai Language Day has been observed since 1999.
---