Unlike the Japanese, who have no strong R and L, we Thais can say those sounds just fine. We have a perfectly good R/ร, and use it all the time – the Thai word for love รัก/rák starts with it and many others.  We have a lovely L/ล, too. We couldn't say monkey ลิง/ling or hundreds of other important words without it.
Now I'm the first to admit we do have some problems with final R's and L's when first learn English.  At first L's at the end sound like N's.
That makes "noodle" and "school" sound like "nooden" and "schoon" until we get used to the sounds.
I freely confess that we don't have the rigid distinctions between R and L that the English do.  Fact is, we prefer not to be rigid about most things.  We can say the letters, but we're comfortable being a little casual about them.  Every Thai can say the important word "อะไร/ à-rai" (something, what, etc) with a beautifully trilled ร/R, but when we're talking fast and need a repeat, we'll say อะไรนะ/à-rai ná (huh?,what was that ?) and to a foreigner it will sound a lot like อะไลนะ/à-lai ná.  It's not because we can't say the ร/R – we're just comfortable and flexible.
This can lead to some สนุก/sà-nùk/fun.  Ask any Thai person you know to say "library" and see if you can hear the different between " R" and "L".
It's took me years to say it correctly but if I say it without thinking, I will still make the mistakes " liblaly" lol
There's a new stationery store sign in my town of Chiang Mai that's getting some double takes. It says, in big letters, ล้านเครื่องเขียน/ láan krêung kǐan.  To a Thai who isn't listening carefully will sound just like ร้านเครื่องเขียน/ráan krêung kǎan.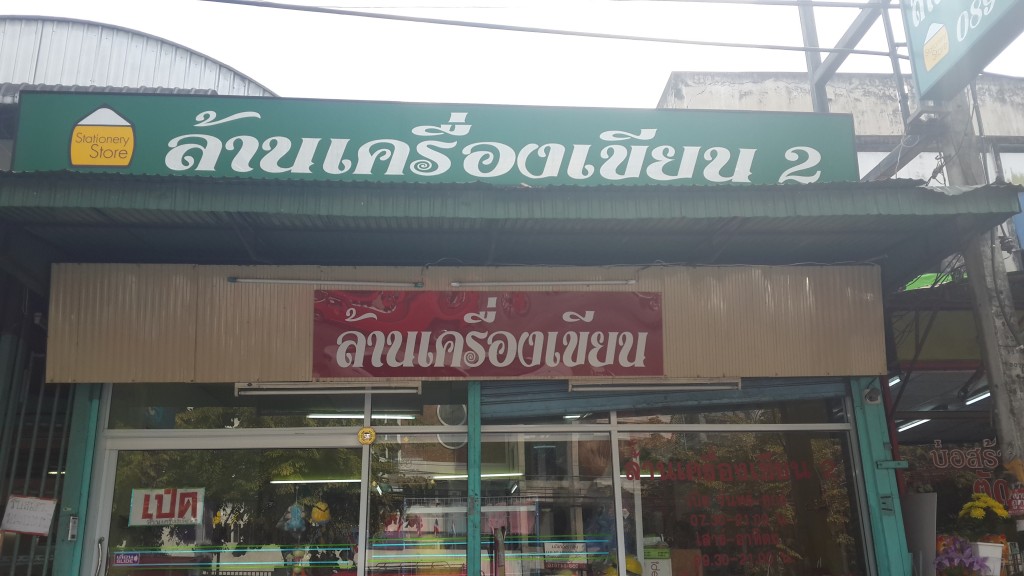 ร้าน/ráan means store.  เครื่อง/krêung are instruments or supplies, and เขียน/kǐan is writing, which all leads to a very ordinary name for a stationery supply house.  But /ล้าน/láan (which in casual speech sounds a lot like ráan ) means a million.  So the store's been cleverly named A Million Writing Supplies. Most Thais won't catch it until they look at the sign and notice the spelling. It took me a few second to figure it out and took a snap shot.
Let's me sum it up for you,
ร้านเครื่องเขียน /ráan krêung kǎan/a stationery supply house.
ล้านเครื่องเขียน/ láan krêung kǐan/A Million Writing Supplies.
Make sense?!  pretty cleaver, isn't it?
Fun with the written word, and yet another reason to learn to read Thai!
Don't forget to ask your Thai friend to say "library", let me know what you hear?