สิ่งที่ควรทำและไม่ควรทำเมื่อมาประเทศไทย
Do number 1
Do smile ยิ้ม/yím/smile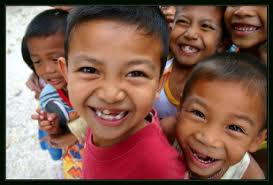 Siam, the land of smile/ สยามเมืองยิ้ม/siam muang yím
Thailand is known as the 'Land of Smiles', and for good reason. Be respectful when bartering or doing business and smile. It is good manners to smile frequently in thai culture and it seems that you can never overdo it.
But a Thai smile does not always mean that the person is happy. This can lead to misunderstandings between Westerners and Thais.
In Thailand, the smile isn't only a sign of happiness. Thais smile when they are amused, bemused, apologetic, annoyed, uncertain, wrong, furious or embarrassed.
Very often though, the Thai smile is a welcoming one. There is a definite attitude in Thailand that life should be enjoyed. Being too serious is unhealthy.
'not think too much, be cool' อย่าคิดมาก สบายๆ / yàa kíd mâak, sà-baai sà-baai