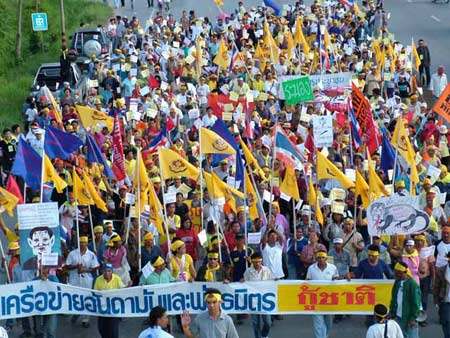 By Vikrom Kromadit http://board.postjung.com/486306.html
Translated by Mia Rongsiaw Lemoign
It may not be a good beginning of the Tiger Year for Thailand when the President of Japan External Trade Organization (JETRO, Bangkok) mentioned that Thailand might no longer offer interesting investment opportunities to Japanese investors. This reminds us of the remarks that Vikrom Kromadit, the godfather of Amata City Company Limited, has made about "10 weaknesses" of Thai people as follows:
1.  Thai people have a very low sense of duty, especially duty towards society. They do for their own benefits. This later results in many kinds of business – political, government service, and education – and keeps holding back the country.
2.  Thailand is falling behind in education. Thai people are only proficient in their own language; this deprives them of opportunity to put up a fight against other countries. Moreover, we are obviously shy and lack self-confidence. It is the reason why we are lagging behind other nations. Thus, the well-off usually send their kids to study abroad for better opportunities.
3.  More than 70 percent of Thai people do not have the foresight. They work on a daily basis and solve unpredictable problems day after day. Very few perform their work systematically and set definite goals.
4. Their job responsibilities are not seriously taken into account; they are good at window dressing or do things because of their being considerate. This is different from Japanese or European people who strictly place importance on a contract or an agreement as it means long-term credibility. At present, Thai people's credibility regarding this aspect is constantly decreasing.
5.  Development is not completely decentralized. Sixty to seventy percent of the population in remote areas are lacking in opportunities to better the quality of life of themselves as well as the community, which needs to be promoted by the government.
6. Thai law enforcement is not strong and continuous. Authorities are prevented from taking action as it involves their friends. Unlike in developed countries, prosecution against those who has authority as well as their supporters will be conducted negligently to save face, based on none of the standards. This is one of the drawbacks that Thai justice process needs to improve.
7.  Being jealous, Thailand is not quite a gentlemanly society. Thai people are as cunning as a fox. Regardless of their background, they admire those who have the power and the money. Moreover, those who do not want to pay off their debts will turn to the powerful people in order to get by. Gumming up the works, they are even worse than the terrorists. Hence, good people are afraid that getting involved could be injurious to them.
8. NGOs are always resistant and some groups are engrossed with benefits. There are a few good NGOs but they are quite rare in Thailand. Therefore, we have been losing a huge number of opportunities because of the obstinate resistance without reasoning things out.
9.  Thailand is not yet ready for the world stage. We lack skills and good teamwork in building credibility in the international trade. Accordingly, we are easily beaten by a small country like Singapore.
10. Thai children are raised in a wrong way. They are short of patience and immunity to mental illnesses. They are fragile because their parents unusually wrap them up in cotton wool and do not teach them to depend on themselves. It is different from the developed countries where people are keen to depend on themselves and find themselves. Moreover, they are taught to have responsibility towards the society.