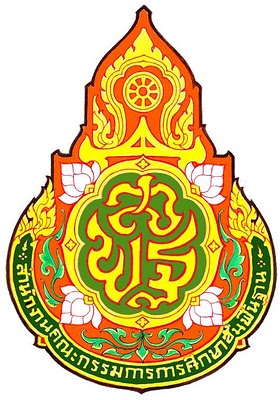 Have you ever had to deal with Thai bureaucracy?
I'm here to tell you it's not fun!
While there are a number of things that make Thailand a great place to live, the Thai bureaucracy is definitely not one of them!
I've known for a quite a while I'd have to deal with the Thai bureaucracy and I was dreading it.
I wanted to get the copyright to translate Maanee books into English and present it on my website.  I was sort of dragging my heels because I knew it was going to be an arduous task.
The process to get copyright can be overwhelming.  The truth is most Thais don't bother to get copyright at all!
Then, in my first phone conversation with Kruu Sripaiwan, she inspired me to press on with these words,
"Do the right thing and do it well."
I had always planned to get the copyright but I found new inspiration in her words.  I found new energy to complete my task no matter how much effort it would take!  So I pressed on.
The roadblocks were many.  When I inquired at the Ministry of Education they said they'd have to set up a committee to make sure everything was done legally.  Then they said they'd need another committee to proofread my translations. oh la la
My heart sank.  I was sure it would take a year or more.  But I kept hearing those wise words in my head,
"Do the right thing and do it well."
It certainly took time!  I started with the first four Maanee books and translated them.  That was two months.  It took another month to do all the paperwork required by the Ministry and another five weeks of waiting to hear back from the Ministry.
Of course, none of this includes the time and effort it took to create and upload the contents on to the web.  I had to try the Thai text, write the transliteration and record the audio.
Whew!
I was exhausted but at the end of it all I finally had the copyright in my hands.  I'm not sure I would have been successful without Kruu Sripaiwan's wise words.  I certainly owe her a debt of gratitude.
So what do you think of the Maanee books on this site?
So far I've only posted the first four books.  I really want to see if people find them useful and beneficial for learning Thai.
Ultimately, if I have good feedback, I'd like to make it the best resource on the web for the Maanee books.
On the one hand it should be a place where foreigners can learn Thai.  On the other hand, I'm hoping young Thais can use it to improve their English and learn about Maanee.
Please feel free to leave a comment.  I can use your help and suggestions to improve my site.
I know it takes a lot of effort to have a successful website but I want Maanee to live again.
I will heed the wise words of my Mentor,  Kruu Sripaiwan,
"Do the right thing and do it well."