Thai greeting is unique and different than the rest of the world.
We do say"hello, how are you?"
BUT I bet you have heard local Thai people often greet each other as
Have you eaten yet?      กินข้าวหรือยัง?     gin kaâo rěu yang?   
it's clear this is a nation that's extremely passionate about its eats.
I got asked many times "Where can I find a good Thai restaurant?"
My answer have always been "Don't look at the menu, the décor or even the prices. Look at the number of people inside. That's your quality indicator"
Thai cuisine is more accurately described as four regional cuisines corresponding to the four main regions of the country:
Northern, Northeastern (or Isan), Central, and southern.
Top 3 Northeastern Thai dishes
อาหารภาคอีสาน: aa hăan pâak E-san: Northeastern Thai food
The cuisine of Northeastern Thailand generally feature dishes similar to those found in Laos, as Isan people historically have close ties  with Lao culture and speak a language that is generally mutually intelligible with theLao language.
Isan, a term adopted from Sanskrit, meaning in a "north east direction. The most obvious characteristics are the use of ข้าวเหนียว /kâao nĭeow/ sticky rice in almost every meal.Normally in versions which temper the extreme heat and sourness favoured in Isan for the more moderate Central Thai cusine. Isan people famously eat a wide variety of creatures, such as lizards , frog and fried insects. Originally forced by poverty to be creative in finding foods, Isan people now savour these animals as delicacies or snacks.
Food is commonly eaten by hand using the sticky rice pressed into a ball with the fingers as a tool. Talking eating by hand, I encourage you to try it. It brings more favor to your meal(make sure to clean well your hand though)
Number 1 ส้มตำ/ sôm dtam/ papaya salad
Green papaya salad is a Northeastern Thai/Lao/Cambodian spicy salad made from shredded unripe papaya.It was listed at number 6 on World's 50 most delicious foods complied by CNN Go in 2011.
Ladies!!! All Thai women love to eat ส้มตำ /sôm dtam. It's light and the spice would help you burn calories.
Although papaya salad is claimed as an innovation of the Lao people, variations of the dish are found throughout Laos, Thailand and Cambodia.
The most "easiest" (to try) version I would recommend you to try first, called ตำไทย/ dtam Thai with peanuts .Why?
Well, The Central Thai version (ตำไทย/ dtam Thai) tends to be mild in comparison and much sweeter; it often contains crushed peanuts. It's less intimidating than some versions that are flavored with the Northeastern-style fermented fresh water fish called "ปลาร้า/bplaa ráa" the strong smell will set you off to an oxygen tank.(you either love it or hate it) Then there are some versions that are flavored with pickled fresh water crabs ปูเค็ม/ pboo khem.
Instead of papaya, other ingredients can be used as the main ingredient. Popular variations in Thailand are:(just to name a few)
ตำ/dtam/[to] pound ; pestle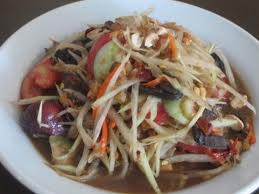 ตำลาว/dtam lao with ปลาร้า/bplaa ráa,ปูเค็ม pboo khem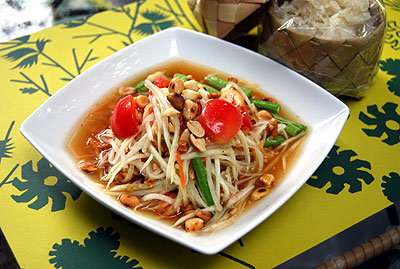 ตำไทย /dtam Thai, with ถั่วลิสง tùa-lí-sŏng/ peanuts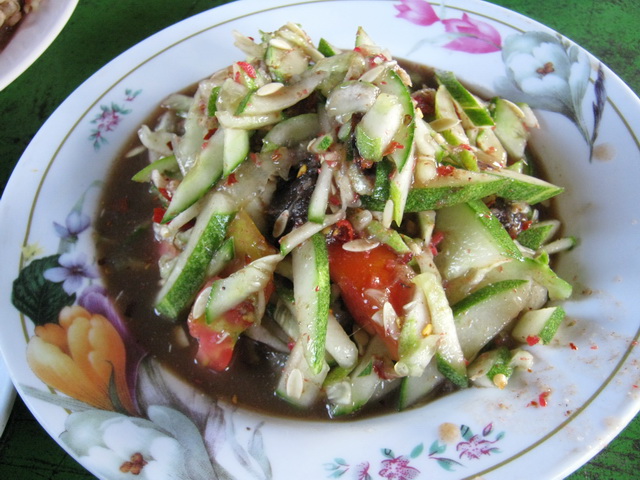 ตำแตงกวา/ dtam taeng-kwa, with cucumber.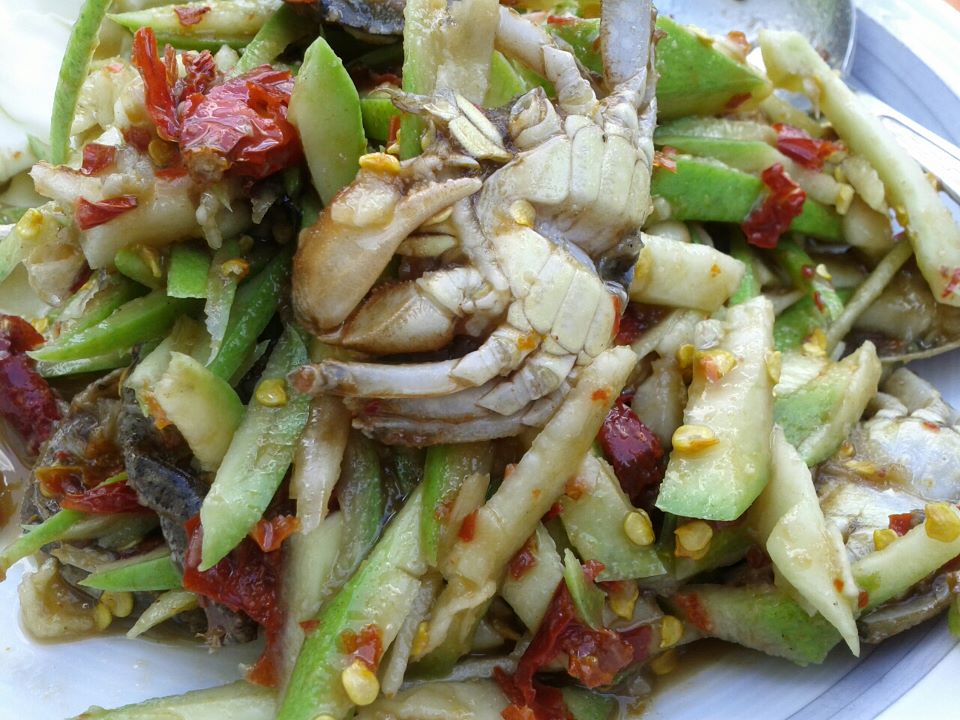 ตำมะม่วง /dtam má-muâng, with green and unripe mango.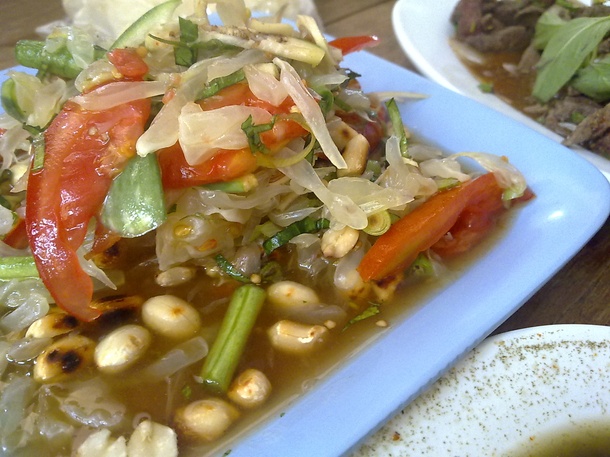 ตำส้มโอ/ dtam sôm-o, with pomelo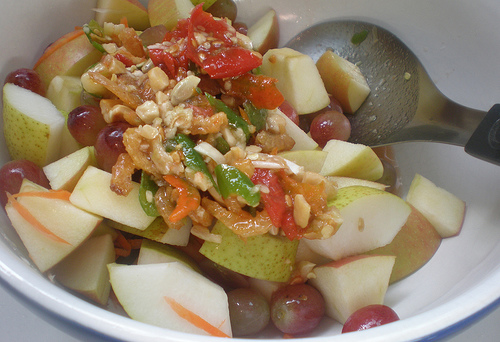 ตำผลไม้รวม/ dtam phŏnlá mai ruam, with mixed fruit.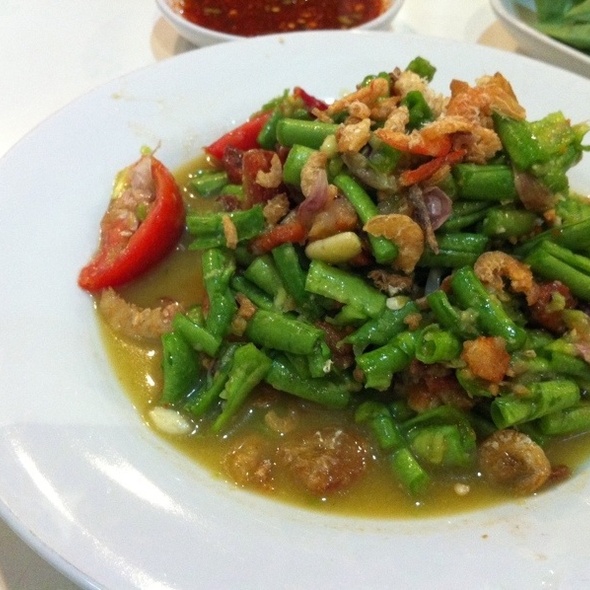 ตำถั่วฝักยาว/ 
dtam tùa fàk yaaw, with 
yardlong beans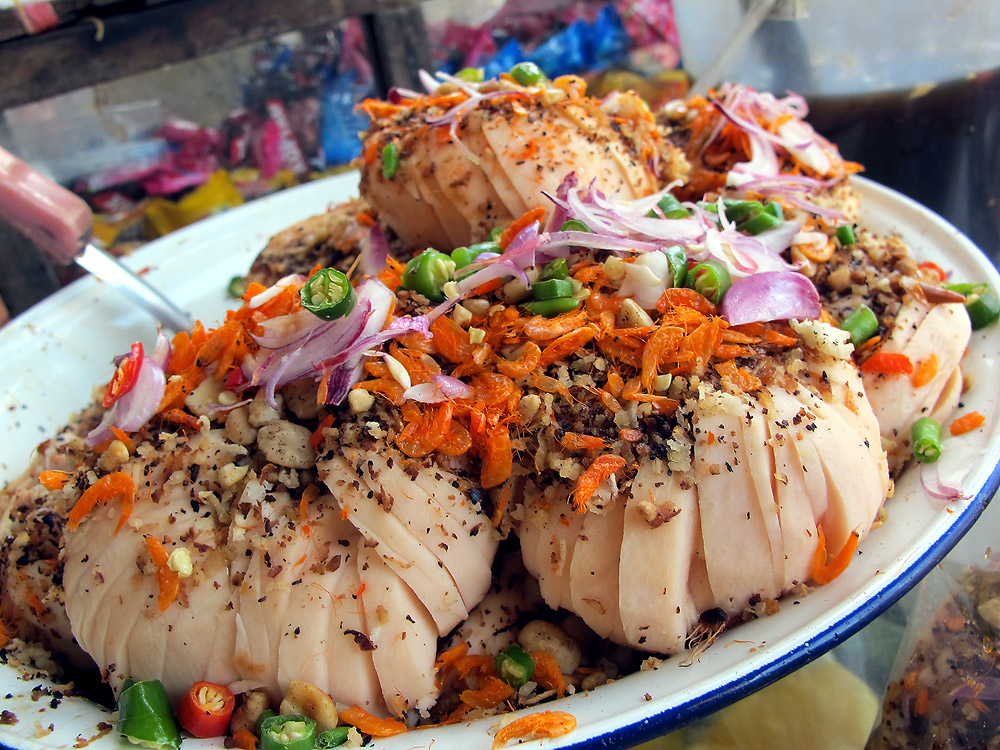 ตำกระท้อน /dtam krà-thôn, with santol.
ข้าวเหนียว /kâao nĭeow/ sticky rice and ไก่ย่าง/gài yâng/ grilled chicken are the greatest compliment to any kinds of  ส้มตำ /sôm dtam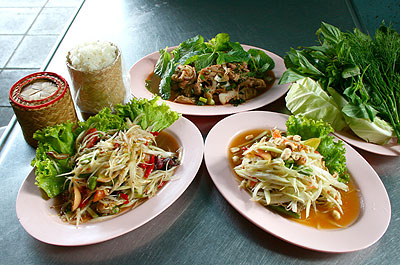 please note: for newbies, ask for ไม่เผ็ด "mâi pèt" means not spicy , it will save your day!
Number 2 ลาบ lâap
Commonly known as a type of Laotian and Isan, sour and spicy meat salad that is regarded as the national dish of Laos.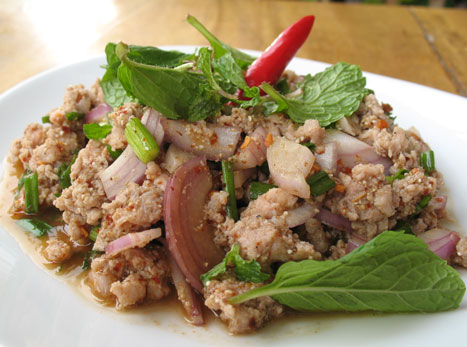 ลาบอีสาน lâap Isan is most often made with chicken, beef, duck, turkey, pork or even fish, flavored with fish sauce, lime juice and fresh herbs. The meat can be either raw or cooked; it is minced and mixed with chili, mint, roughly ground toasted rice (khâo khûa)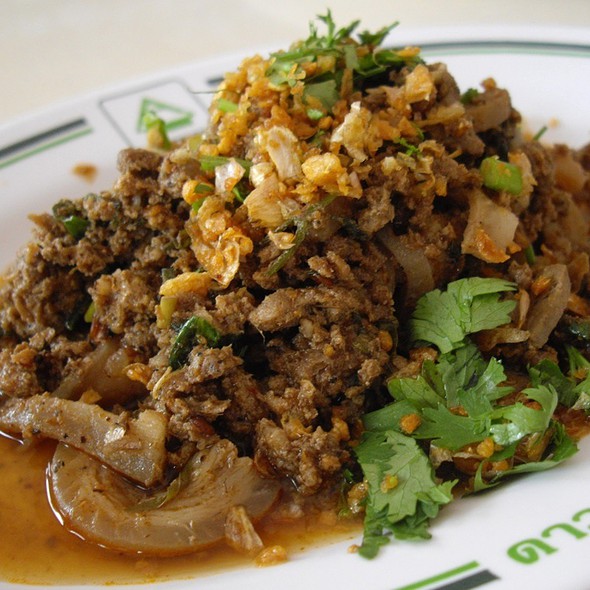 ลาบเมือง lâap muang from northern Thailand is very different , it's does not contain lime or fish sauce, but instead an elaborate mix of dried spices.
Cultural note: ลาบ lâap and ลาภ lâap have the same sound when pronounced. ลาภ means luck ; fortune. Northern Thai people usually make ลาบ lâap for ceremonies, believes that it will bring good fortune.
Number 3 น้ำตก/náam dtòk
น้ำ/ náam/water
ตก/ dtòk/fall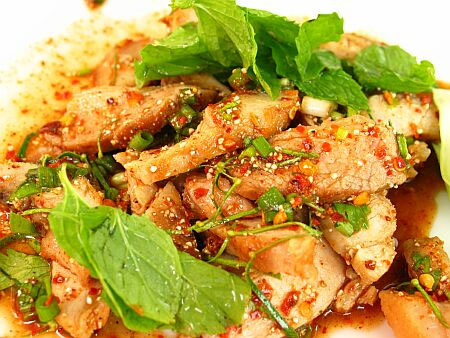 It's is a Lao and Thai word meaning waterfall. It refers to a popular Laotian and Isan meat dish. This dish can be regarded as a variation on the Lao/Isan style larb, however the meat used in náam dtòk is grilled and sliced instead of using ground beef as is the case with larb. It can also be made with pork and it is then called หมูน้ำตก/mŏo náam dtòk or น้ำตกหมู/náam dtòk mŏo.It is called waterfall because of the way the sparks in the bar-b-que fire resemble the falling water in a waterfall
It is traditionally eaten with sticky rice and comes with ผักสด/ pàk sòd/raw vegetables such as ถั่วฝักยาว /tùa fàk yaao /yardlong beans and กะหล่ำปลี /kà-làm bplii/cabbage